Hey there everyone! It's been a while...! But I'm happy to report that I'm finally all settled in the new house, and I can't wait to start creating again ☺️
In today's blog post, I'd like to review the Craft Planner for you. Back in July, I was asked to review the Craft Planner and I really liked the way this planner helps you to manage your projects. At the time the planner was not available yet, and I only had some printable pages to play with. But now I have the finished product in my hands, and I'd like to review it properly for you.
I chose the Craft Planner A5 Limited Edition in Coral Blue. It is actually a very light blue-grey colour and the cover feels like fabric. I really like the way it looks - very sophisticated.
Inside the planner you also get some coloured dot stickers that you can use to colour code in your planner, and a pager marker with some nice suggestions to plan your day and manage your time.
The planner comes with a light grey elastic band that is very sturdy.
I like the attention to detail with all the shiny letters at the front and the back of the notebook.
I also like the shiny finish of the pages on the side, that makes it look so cool when it's closed.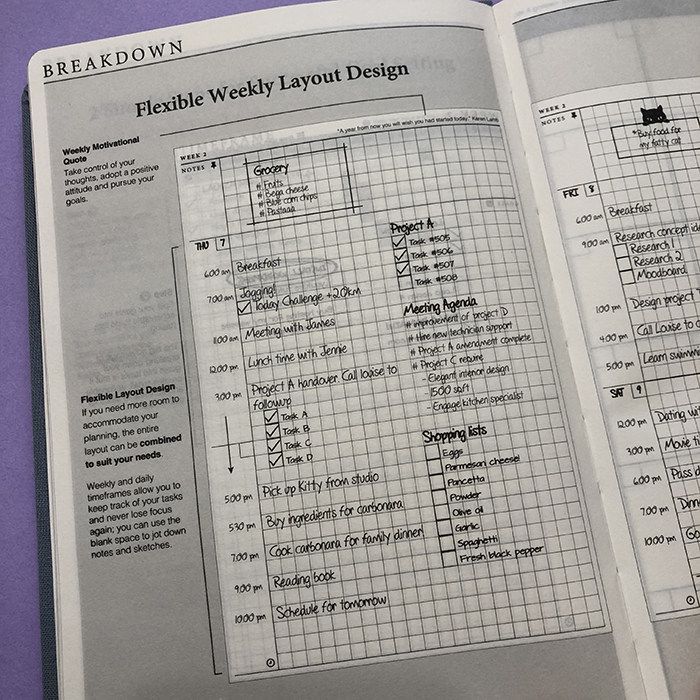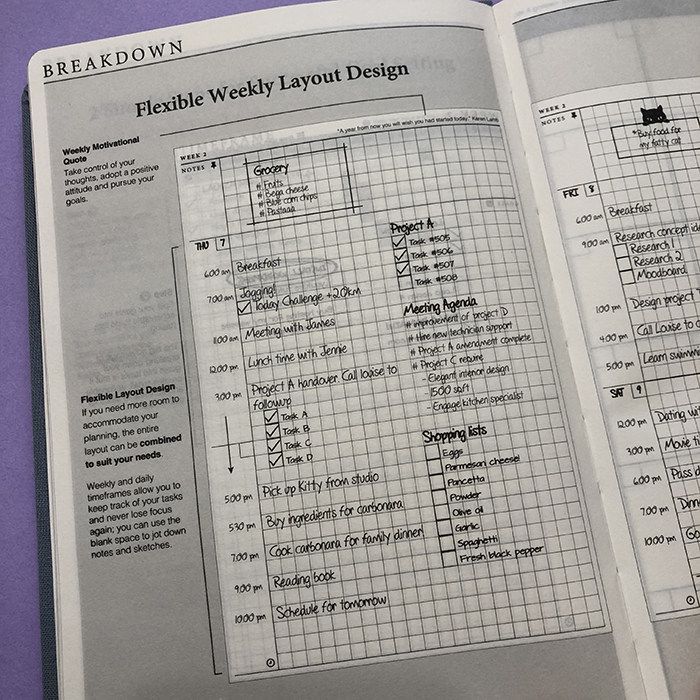 There are 4 pages of break-down demo in the beginning of the notebook, where it shows you exactly how to use this planner. You can scroll through the pictures above to see them properly.
The first section of the notebook consists of 24 pages with the 12-Month Calendar, which is undated. I always like to have a month at a glance section, where I can plan the whole month at once and have a clear view of what I have to do each day. Also, note that the weeks start from a Sunday for this layout.
Then you get 4 pages of 52-Weeks Timeframe Goals Checklists. I really like this idea, where you can break down your goals / projects into smaller steps and allocate each one on specific weeks. That way you can totally manage your projects and stay on top of them.
The last part of the notebook is 208 pages of 52-Weeks Planner, which is again undated. There are sections for your notes and goals, and then you can start planning your days.
At the back of the planner you get an expandable inner pocket, which I always find very useful for stickers or little notes and stuff.
You also get 2 bookmakers in different shades of grey, that you can use to mark the pages you want in your notebook.
Features
The planner comes in A5 size (5.8" x 8.4"), with a luxurious cover made form premium fabric.
It comes with cream lightweight paper, 70 gsm
2x Bookmarkers (0.35cm width)
It lays flat and allows seamless writing on every page.
Apart from the Coral Blue colour, it also comes in Obsidian Black and Forest Pine.
I gave the planner a test drive, where I planned and colour coded one of my days. I used my most used pens on this page, because I wanted to test the quality of the pages and see if there is any ghosting or bleeding. I even used a fountain pen (see the 'stay focused' phrase at the bottom).
As you can see there is quite a bit of ghosting, but no bleeding through.
I really liked the format and the system of the Craft Planner. Future planning and project planning with the bullet journal can be a bit tricky. And all in all I'm really happy with this notebook.
The things that I would like it to have to make it even better would be:
Index Page in the beginning of the notebook. Since using my bullet journal, I like to know where everything is and I tend to archive all my notes and planners.
Numbered Pages. Again, it's nice to be able to refer to a page without adding any markers.
Better quality paper. I find this paper to be very thin and see through, so I believe that a thicker and better quality paper will take this notebook to the next level.
Extra pages at the end of the notebook. I always like to keep lists of ideas and notes for my projects, so any extra pages is always nice to have.
You can get a free digital version of the Craft Planner here, to try out this system for yourself before you buy. If you want to get your own planner you can visit their website. Right now they are having a sale and they also offer free international shipping!
Have you heard of the Craft Planner before? What do you think of it?